Ooopppss…hadn't realized a whole month has passed since writing my last post. This year's cold/flu season has wreaked havoc on the family. All of us have gotten more sick than usual, but thankfully no flu. In between I've been keeping busy with other creative endeavors. The blanket I'm knitting for my new nephew is almost done (post will be coming soon) and I've also been making some homemade creams. I've always enjoyed DIY projects but limitations of time almost always push those to the side. Making creams and lotions is less time consuming, and I've always wanted to put more "pure" products on my skin. As I age and my skin gets drier, I've been challenged with effective body creams that really do the trick.
This weekend I made more body cream. My first few attempts over the past few weeks were not so great—the cream was gritty and hard to spread on the skin. I tried a method that uses a blender to emulsify the oils and water. The results are far superior. I love the cream—it is a bit silky and very creamy, thus easy to spread on the skin. It initially feels greasy but in a few minutes gets absorbed into skin.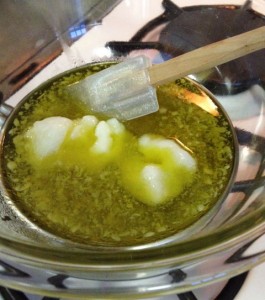 The first step is to melt all the oils with a bit of beeswax in a double boiler. I used olive, coconut and avocado. The next step is to pour the mixture into a blender and wait for it to cool. Final step involves slowly adding some warm water as the mixture blends. And voila! You have yourself some cream!!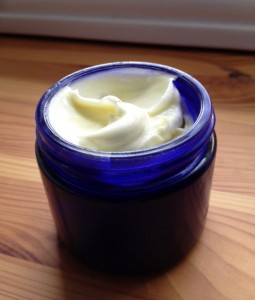 It has no preservatives so I'll be using it up within a few months. Not difficult given the amount of dishes I wash and the gardening I do!
Next batch might have some essential oils and I'll be replacing the water with some rose hydrosol.