I'm not one for New Year resolutions. I haven't made one in years as I figured that if you want to resolve to do something, then it can take place any time of the year.  But this year feels different. I'm thinking of resolutions as a way to place intention, focus and energy in areas of life that I'd like to change.  So, I've made one for this year. Just one. I haven't started it yet, mainly as I'm recovering from a bad cold. It's to start running….or rather, jogging….OK, maybe a fast walk? Just kidding. Running. I'd love to be in a place that I hear about from runners—where they need to run everyday or a few times a week as when they don't, they don't feel right. They feel stressed and anxious.
I'm starting out in manageable steps. Get out two times a week and run/jog for 20 minutes. Doesn't have to be a solid 20 minutes of running. Alternate running with walking until my body/lungs adjust. That's the plan. When I feel I'm ready for more, I'll increase it to 30 minutes and maybe even 3 times a week.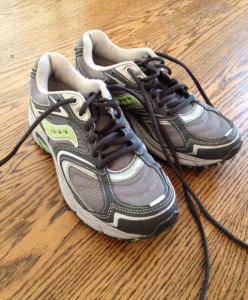 I'm not one for early morning exercise before the day begins. I plan on using my lunch time to get out. I have a field behind my office that provides the perfect surface for running.
OK, I said it. The resolution/intention is out to the universe. I trust I will start running, but keeping it up is always the more challenging part. I have all my "equipment" ready—good pair of shoes, clothes as well as my ipod shuffle. I cannot run without music! Wish me luck!!